About Reverend Ross Edmund Readhead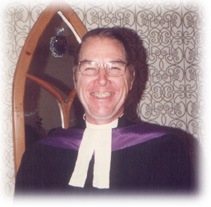 Ross Readhead was the religion columnist for the Brantford Expositor newspaper. He graduated from McMaster University in 1949 and received his bachelor of divinity degree in 1952. He was ordained by the Baptist Convention of Ontario and Quebec in 1952 and was received into the ministry of the United Church of Canada in 1961. He was an Ontario Probation and Parole Officer for 19 years before retirement.
Reverend Readhead was an avid curler and a member of the Brant Curling Club and a charter member of the Probus Club.
6 July, 1923 ~ 6 July, 2008